Ever since former NBA star Mitch Kupchak (current Los Angeles Lakers general manager) first donned a knee brace manufactured by Townsend Design, sales for the company have skyrocketed. Sheetmetal fabrication suffices for relatively low-volume production, but stamping has now become required to support higher production volumes. BY BRAD F. KUVIN, EDITOR - MetalForming Magazine
When orthopedic-device manufacturer Townsend Design, Bakersfield, CA, started to hit it big and expand from primarily an outsourcer of manufacturing to providing inhouse fabrication, making knee braces and related devices to annual volumes of 10,000 (per model) seemed like the pinnacle. To fabricate the metal parts for the braces (hinges and, in some cases, the upper and lower support pieces), the firm began to invest in inhouse metal-fabrication capabilities in 1994, 10 years after its founding my orthopedist Jeff Townsend.
Townsend initiated his company into metal fabrication by starting with laser cutting, and expanded in 2000 to add a bit of forming. The big investment at the time: a combination punch-laser machine "to perform simple embossing and forming," says Craig Arnold, manager in charge of machining, fabrication and production.
Fast Forward
Today, the firm's 45,000-sq.-ft. facility includes, in addition to the punch-laser, a 3200-W stand-alone laser-cutting machine, a 50,000-PSI waterjet-cutting machine, a hydraulic press brake, four vertical milling machines and•added early in 2014 - a Sutherland 176-ton mechanical stamping press (Model HCP- 176-2). A medium-duty single-point small-bed straightside model, it was selected to minimize angular deflection compared to gap-frame presses, and to promote optimum tool life. Bolster area measures 960 by 800 mm; side widow opening is 600 by 450 mm; stroke length, 200 mm.
Sutherland also provided a servo feed (NCDF-300-3T), rated for coils 300 mm wide with maximum stock thickness of 4.5 mm, and its new I-PRESS high-definition color-touchscreen press control. Control features include a stroke-position indicator and brake monitor, error log and fault diagnostics, die protection and variable speed control.
While once upon a time most of the metal-alloy parts in Townsend braces were of titanium, a change in the medical-insurance coding system necessitated a switch to stainless steel and aluminum. Sheetmetal thickness ranges from 0.030 to 1•8 in.
"While conventional fabricating equipment met our production needs for years," says Arnold, "we had begun to look at moving to hard tooling and stamping a few years ago, as our volumes started to creep up on some models of knee braces. One big job finally convinced us to commit to stamping."
No Longer Just High-Mix Low-Volume
Triggering Arnold and his production team to move into a higher-volume production mode, via stamping, was Townsend Design's acquisition by the French medical-supply company Thuasne (elastic compression bandages, medical belts, adhesive and cohesive bandages, etc.) in 2011. A short time after the acquisition, Thuasne asked Townsend to help develop a hinged neoprene brace, with annual order quantities expected to average 150,000 through 2019. Goodbye laser-cutting and press-brake bending, hello metal stamping.
"We manufacture 3500 different part numbers here," Arnold says, "and the typical brace has only six to 20 parts, so traditionally we're a relatively low-volume high-mix manufacturer. That changed somewhat with the Thuasne acquisition, and we quickly realized that finally had to bring a stamping press in-house."
"Being rookies in stamping," Arnold adds, "we knew that technical support from the press manufacturer would be critical to our success, and Sutherland certainly has fit the bill."
The new knee brace that hit Townsend's production floor in mid- 2014, and is expected to take off in 2015, is called Genu-Pro. Available in two sizes (long-arm and short-arm), its hinges comprise three stamped parts-upper and lower bars and a hinge cap.
"Simultaneously engineering and building the press and the tooling proved challenging," shares Arnold. "However, Sutherland has a solid relationship with our die source, Computed Tool & Engineering (Anaheim, CA), and facilitated several meetings in person and on the phone to make sure everyone stayed on the same page so that tooling up the job was seamless."
A Quick ROI on the Press
The first two Genu-Pro dies hit the Townsend Design shop floor in June 2014, and two more in July; all 12 were expected to land by year-end. Most are seven-station progressive dies charged with forming and punching 0.10-in.- thick Type 5052 aluminum sheet.
Additionally, to accelerate the press's return on investment, Arnold earmarked two additional fabricated parts to be converted over to hard tooling for stamping on the new press.
"All told, we•re expecting a 2.5-year payback on the press once Genu-Pro enters full production early in 2015," he says.
One of the existing fabricated parts moved to stamping is a 2- by 2-in. flat part that is assembled into one of the firm's post-operative knee braces. Production quantities average 5000/mo. Compared to laser-cutting the part, from 0.032-in. Type 301 stainless steel, stamping reduced piece-part costs by $0.35, a 40-percent savings, "so there was no problem justifying the tooling costs," Arnold says. He also notes that to better-facilitate making the part on the Sutherland press, the firm switched from a full-hard stainless-steel alloy to half-hard.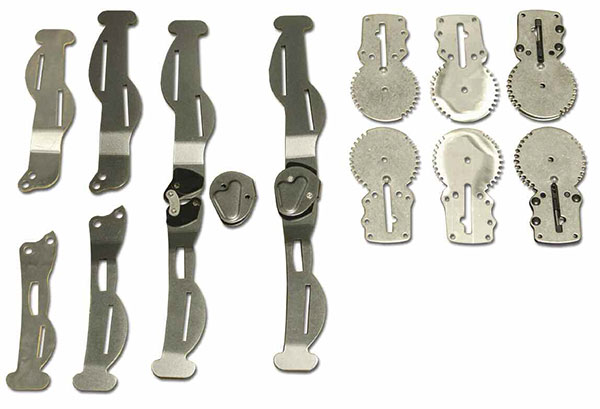 "We felt that the original full-hard part was over-engineered," Arnold adds, "and that moving to a half-hard alloy would increase the life of our stamping tools."
Arnold also moved a second part for the same post-op brace from fabrication to stamping, this one a much larger gear-shaped part used to set flexion and extension stops as the brace is worn by patients. This part, actually two stamped parts (left- and righthand), is Type 304 stainless steel; a plastic part fits between the two stamped parts in assembly. Why the move from fabrication to stamping?
"The teeth of the two stamped stainless-steel parts must align perfectly to ensure repeatable, comfortable operation of the brace," says Arnold. "While we definitely were able to assemble quality braces used fabricated parts, we thought that stamping the parts would make the assembly task faster and easier, and we were right. In the end, running the Sutherland press at 35 strokes/min. to stamp the parts compared to 45 to 60 sec. to fabricate each part reduced piece-part cost from $2.00 to $0.60. That•s a huge savings."