What do you get when you put the Best Press Company & Trucking & Rigging company together ? One Awesome Alliance !!
New California Customer Prep Center in La Mirada California. The new building below is owned by our long time partner and rigging company, Dunkel Brothers. Sutherland will have a revolving showroom and Customer Prep Center as of November 2015. This will allow our customers, service companies and distributors to come in for training and certification on the latest models of Sutherland Presses. We are excited about the added quality checks and press start up prior to our customers receiving their new press.
Sutherland & Dunkel have worked for over forty (40) years. Sutherland will direct discharge incoming presses to the new California Prep Center. As you can see, Dunkel has a large fleet of the most modern trucking and rigging equipment. Load in and out will be fast to assure no delays to our customers.
Due to market share gains in press sales by SUTHERLAND & KC PRESSES, SIS / SUTHERLAND INDUSTRIAL SERVICE is expanding our vetted and approved network of service providers. The name of the game in service is how fast you can respond and resolve customer issues. We currently have over 12 authorized press service companies and growing with the best skillsets in the industry in USA and 6 in Mexico.
One of the key reasons for growth, is lack of downtime, durability and reliability of our presses. We incorporate the highest quality components that are made for demanding industrial use. All parts are in stock and readily available when needed.
SIS Green-Yellow-Red Preventative Maintenance Inspections are yet another way to assure your presses stay in top performing condition. We look at all six (6) key areas of your press as shown in "lower right section below". You get a full documented report with photos that give you a report card on your press. This is a great tool that makes it easy for your administration department to know when they need to justify expenses.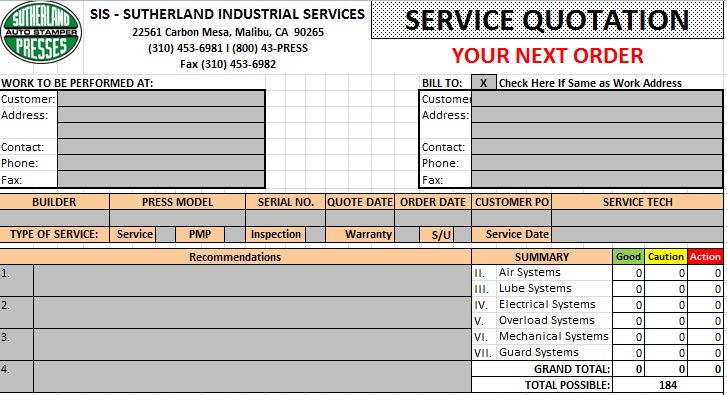 If you would like to know more about Sutherland Presses you can use the following links or just call +1-310-453-6981 or Toll Free 1-800-43-PRESS.
Don't miss us at the Largest Metal Forming, Fabricating & Welding Show in North America. FABTECH / METALFORM, Booth S-4343, November 9-12th, 2015, McCormick Center, Chicago.
Mark Sutherland, President